Rahema Hernandez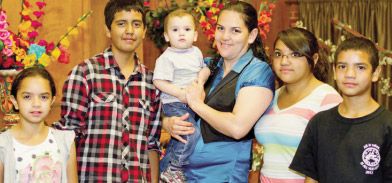 Rahema Hernandez graduated with honors from the Pima Community College Dental Assisting program in 2012. As a single mom with four children, she is now working at a Dental office and supporting her family. No one in her family had ever gone to college. She had never had anyone tell her that college was an option. Rahema was a good student in high school, but she got pregnant when she was 16, and had a daughter.
"My family expected me to drop out," she says. But she went to three different high schools to prove that she could graduate from high school — and graduated with honors and was the speaker at her High School graduation. Rahema was excited to be awarded a college scholarship, but because at that time she did not have legal status in the U.S. she was not eligible to keep it. She became sad and depressed — and angry that the scholarship was taken from her. For many years she continued to dream about going to college, but never thought she would. Then she heard about JobPath.
JobPath helped me realize that I could go to college. They helped me apply to the Dental Assisting program and figure out how I could get a scholarship. I was excited and scared when I found out I was accepted into the program. I could not believe that I would finally be in college.
"JobPath gave me the assurance that I could accomplish something wonderful. Without this program I would not have made it all the way to graduation. My counselor was a huge support for me. I am so blessed, and I am grateful for the assistance."
"I have always wanted to be a positive example for my four children ages 1, 10, 12, and 15. I tell them that education is very important. Since I started college, I am so proud that I am a role model for them.
My two older children are already talking about going to college. I would like to encourage everyone to continue working for your dreams despite any obstacle. With a little help and motivation, nothing is impossible."