Monday Tor-ue, RN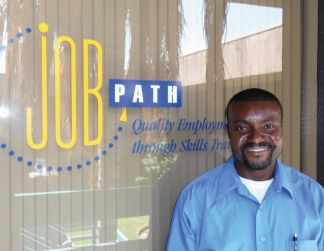 While Monday Tor-ue was in a refugee camp in the Republic of Benin, West Africa, his first child was born. Sadly, there were complications. In 2003, Monday and his family arrived in Tucson.
The hope that coming to the U.S. would help his daughter was crushed when doctors determined that she had suffered 95% brain damage during delivery—his beautiful daughter did not survive. Monday made the life changing decision to become a nurse committed to preventing this from happening to others. Mr. Tor-ue graduated from the Registered Nursing Program at Pima Community College in May 2011.
While in the RN program Monday became a divorced, single parent with four young daughters. During his training, he went to Nigeria to visit his dying mother—she learned that he had graduated from the nursing program before she died.
"It has not been easy! No matter what I was going through, I kept going. I could not have done it without support from JobPath, One Stop, DES, UMC and my church Catalina United Methodist. So many people helped me! Knowing they were there for me made all the difference.
"I want to especially thank JobPath for the support and encouragement to help me succeed. I am now working as an RN at UMC. I will continue to do my best always and be there for others to help them reach their dreams."