Marco Valenzuela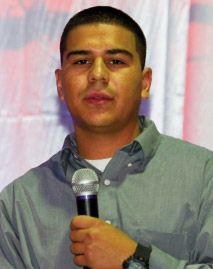 Marco was working at a fast food restaurant making minimum wage, while also supporting his mom (who had been laid off from her job) and his 12 year old twin brothers. When he attended his girlfriend Lyane's JobPath Graduation, he realized he wanted to go to college.
Lyane heard about JobPath when she started the Pima College Dental Assisting program. She received support to stay in school and not give up. "It was not easy," she says. Without JobPath, she would have quit the program. Lyane brought Marco to JobPath. "They sat down with me and talked about the Pima College aviation program and what I needed to do to go to college. It was the best decision of my life!
"I am proud that I'm the first in my family to go to college. When I started the Aviation program I was very shy and nervous. But I soon realized that I was smart and if I worked hard, I could get an Associate's degree in Aviation Technology. "Lyane and I got married and had a baby while I was in school. I worked nights and weekends as a caregiver and in retail.
"We are so grateful! JobPath helped us with financial aid, paid summer tuition, provided books and gas cards, helped get the tools and take the tests I needed to get a job. JobPath even helped with rent when the baby came. "Because of JobPath, I stayed focused on school and I made lifelong friends. I appreciate the encouragement and financial help. JobPath changed my life — and my wife and baby's lives.
"Thanks to JobPath, Lyane now has a great job in a dental office and I am working as an aviation mechanic. It's a dream come true. I can't tell you how much JobPath has helped Lyane and me and our baby.
"I am also proud, because my brothers and my cousin now want to follow in our footsteps and go to college. Thank you JobPath … and thank all of you who support JobPath!"