Linda Lopez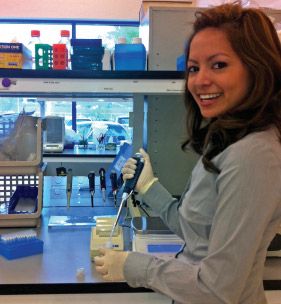 "Girl Genius"
Linda Lopez was 16 years old between her sophomore and junior years at Sunnyside High School when she was selected for a highly competitive 5-week Introduction to Biotechnology summer bridge program at Pima Community College. The program, sponsored by JobPath under the President's High Growth Job Training Initiative grant, gave Linda her first hands-on lab experience. She earned an 'A' in the course, received four college credits and a stipend of $800. Linda knew that Biotechnology was the career for her. She worked hard in Advanced Placement science and math classes at Sunnyside HS and was her class Valedictorian with a 4.4 GPA.
"I am so grateful to my counselor at JobPath. She gave me a chance. Without JobPath, I could not have attended college and be where I am today — working at a dream job with great benefits in a career with so many opportunities."
Linda — the oldest of four and raised by her mother who immigrated from Mexico — is the first in her family to attend college, entering the Biotechnology Certification program at PCC, and became Lab Assistant to Lisa Werner, Biotech Director. Soon Linda was known as "GG" (Girl Genius). Linda was recently hired by HTG Molecular, a local biotech company that is also her final semester internship. She graduates in May with a 4.0 GPA.