Jeremy Walstrom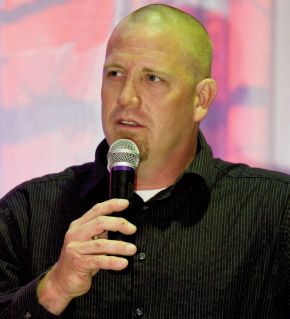 I graduated from JobPath in 2012 as an electrician. When asked to give a graduation speech, I said, "Me — success story?" I'm just a regular guy trying to raise a family and make it through life. I started to make notes and soon realized I am a success story! Now I am sharing my story and why I am so grateful for JobPath.
I barely graduated high school and had no direction. I worked kitchen jobs and was not interested in learning a trade or furthering my education. I hung with the wrong crowd and made wrong decisions. With that, the drug abuse started, and I was on the road to prison.
By 19 I was doing 1 year for my addiction. I served my time with every intention of doing good, changing my ways, and never going back. But life has a way of scrapping plans. I had just finished parole when my dad died suddenly.
Unprepared and vulnerable, my old friends came to comfort me the only way that they knew how — drugs. I do not blame them for my problems — ultimately it was my decision. I found myself on the road to prison again, this time with a 4 1/2 year sentence.
I was 26 when I was released. I had no education or training and a gap in my work history. I knew the only way to get anywhere was job training. I enrolled in an apprenticeship with the IEC. But how do I pay for school and keep food on the table? I asked around if there was anyone who could help me. The answer was JobPath. I set up an appointment with a counselor. JobPath was interested in my story and eager to help.
If not for JobPath I would not have made it through the 4-year apprenticeship. Going to school, working full time and starting a family takes sacrifice.
But with sacrifice come rewards — rewards I would not have earned if JobPath had not helped me. Now I have a great career and the means to provide the right life for my family. Thank you for allowing me to share my story. And thank you, JobPath for believing in me and making this a reality.