Ana Karina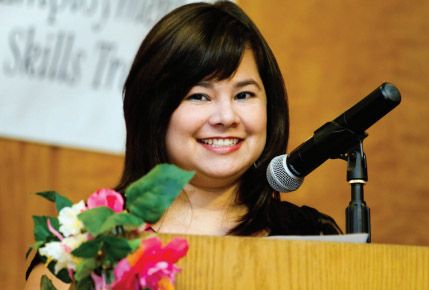 I am a participant in the JobPath Pathways for Highly Skilled Immigrants Program and I want to share my journey with you. Due to a family emergency, I moved to Tucson 3 years ago. As a permanent resident I wanted to get a job in the science field because that was my degree in Mexico. But the only job I could find because of my poor English was as a teller at a check cashing agency. I wanted a better life for my husband and our two small children.
Because of JobPath, I have improved my English and learned about U.S. workplace culture. More importantly — we learned to believe in ourselves! Mas importante! Hemos aprendido a creer ennosotros mismos. My confidence improved and I built a network of friends and colleagues that led to the job of my dreams!
First I worked as a University of Arizona Community Health Worker with a Hispanic Women's Research Project, then at Pima Community College as a Science Lab Specialist. And now thanks to JobPath, I am an Environmental Health Specialist I in training at Pima County Health Department.
The JobPath Pathways program, classes and volunteers helped me and many other immigrants in becoming successful members of our new community. Thank you to everyone who supports JobPath!