Allison Mello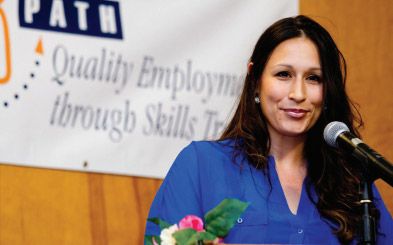 Graduation signifies achievement; beyond that, it represents a personal journey filled with a variety of triumphs and failures all of which contribute to the ultimate success. I had my son at age 14 and my life has been filled with many changes and challenges. At 17 I had my daughter and got married. I was divorced by the time I was 19. Although I desired to pursue my education, I had to work to support my children.
At 18 I became a Certified Nursing Assistant and decided I was going to one day become a nurse. By 20 I began to pursue my Licensed Practical Nurse courses. I made it through 10 months of a 13-month program. The entire time I was a full time student and worked a full time job. By the end of the 10th month, I hit a brick wall. I was exhausted. I was suspended from the program for failing out of a section by 1 point.
I will never forget the day the Dean harshly told me, "Maybe you should consider another career — maybe nursing just isn't for you." I was crushed beyond belief.
It took a couple years before I decided to return to school. This time I was determined to become a Registered Nurse. I started off by taking 1 class and then continued on with 2 classes per semester so that I could maintain working and caring for my children. After about 8 years and many bumps in the road, I finally made it! I want to express my gratitude and appreciation for all the support from my family, friends, my employer and last but not least JobPath. I am so grateful that there are organizations like JobPath to help bridge the gap for people who are truly striving to do better in life. Again thank you all from the bottom of my heart for investing in me.