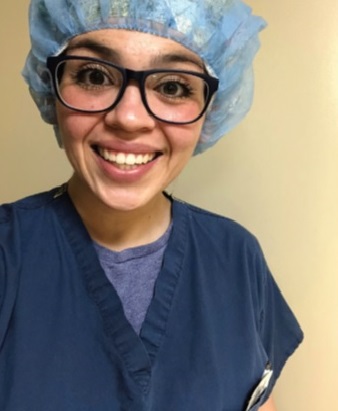 Surgical Technologists are the unsung heroes of the operating room ensuring that everything runs smoothly before, during, and after surgeries. Under the supervision of surgeons, they ensure the operating room is sterile and stocked with supplies and equipment needed during operations.
This industry is also rapidly growing with a projected growth of 10-14% in the next decade (O*Net). With job prospects looking good and average wages upwards of $22 per hour being a surgical technologist has a very bright career outlook!
Read on below for JobPath Surgical Technology Graduate Elsa Reyes' Story!
Elsa's Story originally appeared in JobPath's 2018 Spring Newsletter
ALMOST HOMELESS 
My name is Elsa Reyes. In December 2016, I quit my full-time
job to pursue my dream career as a surgical technologist.
I went from a steady and secure paycheck to
nothing. In early 2017, I considered dropping out of school
to help at home because I felt guilty for quitting my job
to pursue school. Then, my family and I almost lost our
home. I felt so hopeless and that I could've been doing
so much more instead of being in school.
That's when someone recommended that I talk to JobPath.
My JobPath counselor told me she would do everything
she could to get me through school. I felt such relief!
She was there from the very beginning and stuck with me
and my family until the very end. She constantly reassured
me that everything would turn out alright and that they
could help me and my family while I was in school. She was
fast with her responses, always delivered beyond what I was
expecting, and was there to cheer me on when times were
tough.
Thanks to generous gifts to JobPath, it was possible for us to keep
our home! You also helped with personal bills and
gas cards. We were well taken care of all around.
JobPath staff are here for us and nothing makes them
happier than to see us succeed and start our dream careers.
I am now a JobPath graduate and a certified surgical
technologist!
You made it possible for my family
and I to become financially stable
and not stress about money while I
was in school.
THANK YOU!!!
-------------------------------------------------------------------------------------------------------------------------------
If you or someone you know is interested, consider exploring the educational pathway at Pima Community College's Center for Training and Development (CTD) at Desert Vista Campus. In about a year, students learn the knowledge and skills necessary to gain employment in this high-demand field!