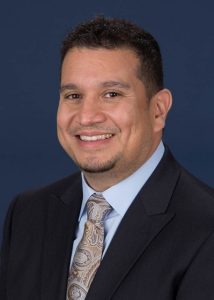 Frank Velásquez Jr. is a results-oriented, innovative professional who researches, analyzes, develops, implements, facilitates, and evaluates new and existing systems and programs, delivering high quality systems and programming primarily within corporate organizations and post-secondary educational institutions. Frank's success can be directly attributed to his understanding that people matter. With an innate sense of curiosity, he applies his highly effective interpersonal and communication skills to collaborate with people from multiple departments and levels within and outside the organization.
Frank successfully led the nationally-recognized Adelante Performance Award Program, a scholarship program that served low socioeconomic Hispanic students. In addition, he has trained thousands of participants from organizations such as Walt Disney World Resort, MGM Mirage Corporation, Palms Casino, and Pima Community College. A social justice advocate, Frank believes in universal human rights and uses his facilitation skills to promote social awareness.
Frank strives to never be the spectator, but "the man who is actually in the arena… daring greatly!"
Frank holds a Master of Education degree in Human Relations from Northern Arizona University.